My Air France A320 (Incomplete)
Last edited by Beardie27 on Wed Aug 19, 2009 9:18 am; edited 1 time in total
Here is the progress into Condor A320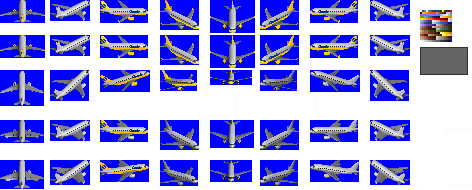 Airbus A320-212
Livery - Condor Flugdienst (Old)
Production - 1990-2004
Capacity - 180 pax. and 30 bags of mail
Last edited by Beardie27 on Wed Aug 19, 2009 9:18 am; edited 1 time in total
Looks great. Some planes were using this livery a bit longer (I guess by the year 2006).
I would like to suggest to reduce the number of seat to 174. I know, that Condor flew with about 180 PAX once, but later on Condor reduces its rows of the A320-fleet down to 174 seats and 31 rows (ex No. 13 and 17, they are missing). This number represents the normal or "longer used" configuration. Believe in me, it's my daily work
For about three weeks, a new livery modification is going to be introduced. The new "old" Condor-sign now can be found on the engines and right down to the window of the flight-deck. Currently for example D-AICN has been finished; for example: yesterday D-AICI still has it's "old" livery.
Regards
Beardie27 wrote:My Air France A320 (Incomplete)
New Livery was never finish at WAS Forum, late contact to TT-forums.net
Similar topics
---
Permissions in this forum:
You
cannot
reply to topics in this forum